SEGWAY TOURS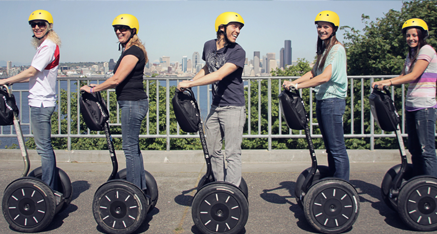 Great customer service and professionalism are the hallmarks of our business since 1987. Our high-tech Guided Segway tours are no different. As a Segway Inc. authorized experienced center and tour operator, our tours meet the highest of standards for providing customers a safe and memorable experience. We're considered the highest quality Segway Tour operator in the areas we do business, delivering the utmost in safety and training, providing fun instruction, smaller guide-to-glider ratio, and in-depth knowledge of technical and practical usage of the machines.
Segways are the most fun one can have on two-wheels; our award winning tours take guests on a journey to experience a myriad of the local area's most famous landmarks.
Our tours stand above the rest because we:
• Use Wireless Audio Communication Systems
• Employ only Certified Tour Guides
• Refresh our Fleet Annually
• Offer a flexible rescheduling policy and customer service reps 7 days a week.
• Low Guide-to-Rider Ratio and more.
We currently offer guided Segway Tours in the following markets:
• San Diego, California
• Louisville, Kentucky
• Milwaukee, Wisconsin
More markets coming soon. Our Segway Tours are ranked "best thing to do" and "top attractions" on Trip Advisor in their prospective markets. We are also the recipient of many "Certificate of Excellence Awards" from Trip Advisor for our outstanding customer reviews.