GROUP EVENTS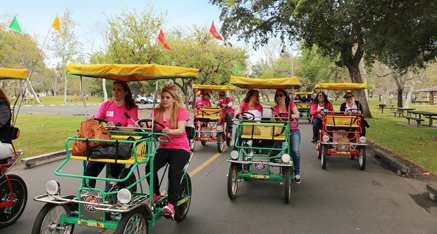 Discover the perfect opportunity to mix business with pleasure! Our innovative team-building activities, set against the backdrop of some of the greatest locations in the nation, make for the perfect team building events. Whether the group is planning a structured team building exercise or recreational break from training or seminars, Freetime makes the event a memorable outdoor experience. Team building activities have proven very successful in improving: productivity, motivation, problem solving, communication, morale, and creativity.
Family Reunions
We deliver extraordinary family experiences! From coast to coast, Freetime offers spectacular settings for family reunions or retreats. Our superb variety of activities ensures families can make memories that will last a lifetime. At Freetime, we combine great settings, quality recreation and food options, exceptional service, and more to put on a show stopping event. Recreational activities ideal for family reunions can range from Olympic challenge games to scavenger hunts, biking, boating, fishing, Segway tours, guided moonlight stand up paddleboard tours, kayaking tours, and more.
Birthday Parties
Kids love having their birthday parties at our locations for the sheer fun that's offered! Packages include Free-For-All programs (a hop-on-hop-off ride anything buffet style event), we also offer Sport Drag Races, Mini-Olympic Games, and Scavenger Hunts. Catering, cake, and decorating packages available as well.
Weddings
We regularly take part in wedding ceremonies and festivities. Whether the bride and groom ride down the aisle on our Segway personal transporters, or the whole wedding party rides away on Surrey get-away vehicles, we pride ourselves in making the big day special. We regularly work with wedding planners, hotels, venues and photographers to make the event one that won't be forgotten.