PRODUCT DESIGN & SALES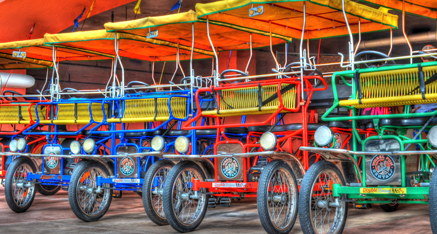 We couldn't find product that held up in the tough rental environments, so we designed, developed and manufactured our own. Today, Wheel Fun Surreys have been the leader in design and quality for over 20 years. As the leader in the quadicycle industry, well know bike entities like Blazing Saddles, Bike and Roll, and many others come to us to purchase bikes for their rental fleet.
We've combined creativity, innovation, and our relentless eye for quality to deliver the best specialty bikes ever. We offer the best value in quadricycle Surreys with greater safety, less maintenance, and finishes that outlast all others. Our quality starts with superior raw materials and continues through the rigorous testing of each incoming part. That's why we can offer the only limited lifetime warranty in the business.
As we continue to drive the future of the rental Surrey, we're proud to carry forward everything we've ever explored, imagined, studied and learned along the way. Our design team incorporates both function and form focusing on lower maintenance requirements and quicker service procedures. Our bikes have finishes that will outlast all others, more safety features, and superior raw materials. We simply don't cut corners.

Our Surreys bikes are engineered from the ground up for greater safety and reliability.
Features Include:
Top grade, rust eliminating corrosion free 304 stainless steel material
Quick Stop Disc Brakes
Rack and pinion steering
Wheel Covers assuring passenger feet don't get caught in rear wheels
Independent Pedaling by our heavy duty front freewheel system
Turnbuckle Front Wheel Alignment
L.E.D Front and Rear Lights
Rustless Chains
Middle passenger Footrest brings comfort and safety
All specialty bikes feature:
Hard Coat Baked on Paint
CAD supported Industrial Design utilizing full Human Factors research, assures comfort, and adjustability.
A family of products that share identical styles, parts, and features, assures a professional fleet appearance as well as easier serviceability.
Easily replaceable "skin coverings" keep the fleets fresh and professional.
Warehouse
Our full-service warehouse and support team offer all replacement parts for all bikes we've ever manufactured, and even those that weren't made by us. All parts are available for immediate shipment.