WFR OUTFITTERS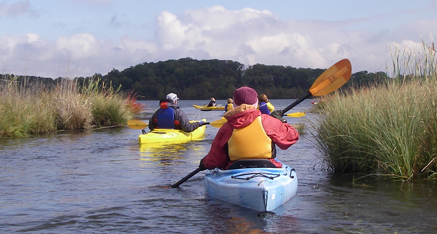 Rentals: Kayaks, Canoes, Rowboats, and Stand-Up Paddleboards
We offer an assortment of sit-in and sit-on-top kayaks, including Future Beach sit-on-top kayaks which feature exclusive catamaran hulls which are the best choice for beginners, but still a blast for experienced paddlers. This unique hull outperforms traditional kayaks with exceptional tacking and efficient glide offering less resistance with no sideslip.  Future Beach kayaks also sit higher out of the water and are more stable during entry and exit. In addition we offer family friendly 2 and 3 person kayak and Hobie pedal kayaks.
Each rental comes complete with properly fitted life jackets, safety instructions and weather overview. Kayak, canoe and SUP rentals comes with an outline of fundamental technique, including reviewing diagrams showing proper body positioning, grasp of paddle, paddling stroke, etc. For recreational fishing, exploring, and touring, we offer an assortment of canoes and rowboats, including some equipped with outrigger attachments.  We opt to carry Osagian aluminum canoes to offer stability and versatility making them the right choice for families and newcomers to the sport of paddling.
Stand-Up-Paddleboarding is fast becoming a very popular recreational activity. Freetime provides lightweight, yet stable, paddleboards that offer great glide and solid performance, offering models perfect for beginners and experienced paddleboarders alike.
Watercraft Instruction: Paddling
For those who would like to practice and become more comfortable before going out on their own, we offer orientation classes including:
Kayak Orientation Class
Canoe Orientation Class
SUP Orientation Class
More intermediate Kayak and SUP Clinics are offered for those who want to learn more, develop technique, increase efficiency, learn more extensive weather and water safety including what to do if someone is in the water, and more quickly move to intermediate or advanced status.
Kayak Workshop
SUP Workshop
Water-Based Fitness Instruction
For those who want to embrace a healthy and happy lifestyle all while enjoying the natural splendor of the water, we offer SUP fitness classes. Since the SUP platform is unstable, participants engage their core for better balance, focus, and fitness. Classes include:
Beginner SUP Yoga
Intermediate SUP Yoga
SUP Fitness
Guided Tours
We offer a variety of guided kayak and stand-up-paddleboard tours, including our new sunset L.E.D paddles. For all paddlers, including beginners and family groups, our knowledgeable nature guides share the wonders of the area with information on the numerous birds as well as other wildlife and flora. Guides share the history of the area, explain water conditions, and reinforce guest paddling technique. Tours run daily (weather permitting)
Self-Guided Tours & Interpretive Programs
Our self guided kayak tours begin with an on-land instructor that educates guests about water safety, proper paddling technique, currents, winds, and local wildlife. Once in the water, guests can access informative interpretive tour booklets helping them identify flora and fauna and developing an appreciation for environmental stewardship.
Bait & Tackle Supply
We continuously update/revise our offerings based on demand and season. For bait & tackle we carry a variety of items appropriate for local angling. Items include frozen and live baits, as well as spinning and fly fishing tackle.
Fishing Licenses
Freetime becomes a certified Fishing License Vendor at most of our WFR Outfitter locations, so visitors have easy and convenient access to fishing licenses.
Retail Items
In addition to fishing licenses, bait, tackle, rods and reels, and gift certificates, our WFR Outfitter locations often  offer an assortment of items to support our recreational water activities including: waterproof map cases, dry-bags, compasses, knifes, multi-tools, pumps, binoculars, sunglasses, sunscreen, lip balm, insect repellent, water bottles/thermos, paddling gloves, neoprene footwear, sandals, hats, and bandanas.
Locker Rentals
Lockers are available to rent for daily or seasonal storage to patrons renting boats at some locations.