RECREATIONAL RENTALS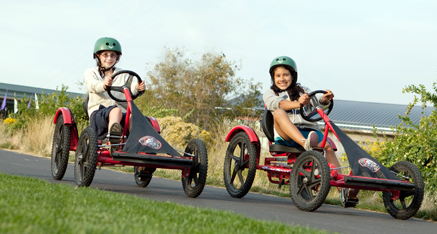 Wheel Fun Rentals is the nation's premier recreational rental company. We operate over 100 locations across the country and nationally Wheel Fun Rentals is ranked #1 in recreation by Entrepreneur Magazine. Find us in leisure and tourist destinations and places people gather together to have fun. As a very popular bike and boat rental concession with over 2 million satisfied customers yearly, we offer the ultimate in fun and recreation for the entire family from toddlers to grandparents!
TAKE THE RIDE OF YOUR LIFE
Our entire fleet is designed for fun. We offer a fleet of vehicles so cool, you'll want to stay all day. Try a Surrey with the fringe on top or one of our other specialty cycles. We offer sizes for couples or for the entire family to share. And when there's water we've got pedal boats, kayaks, canoes, and stand-up paddleboards. All of our products are maintained and serviced regularly, for hours of carefree enjoyment.
ENJOY THE OUTDOORS
Our fleet of unique vehicles offer unparalleled outdoor recreation for sightseeing, people watching and a touch of exercise that will enhance any leisure time experience.
WE TAKE FUN SERIOUSLY
To some, recreation rentals might not seem like a place for leading edge state of the art innovation; however we take this business very seriously. Best practices for customer service, safety, product maintenance, staff hiring & training, accounting, and more are shared on our message boards, at our annual conference, in our staff newsletters, e-mails, phone calls, and formal training.