NATIONAL, STATE & CITY PARKS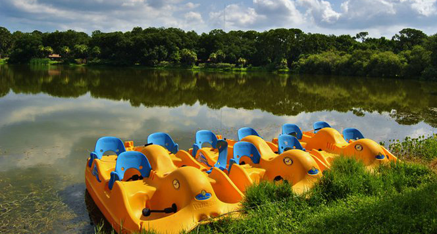 As a concessionaire with outlets in nearly 50 parks, including Gateway National Recreation Area, we are passionate and diligent about supporting the National Park Service's mission to preserve the natural and cultural resources and values of the National Park System for the enjoyment, education, and inspiration of this and future generations. In all of our park concessions, we continue to encourage the development of a personal stewardship ethic, and broaden public support for preserving park resources.
Leave-no-Trace: Education & Signage
We actively promote the importance of "Leave-no-trace" and "Pack-it-in-pack-it-out" to every patron where we do business in Parks, nature preserves, and historical landmark areas. It's our goal to minimize human impact on the natural and historical areas, preserve and protect the surrounding wildlife and ecosystem, and help ensure a positive recreational experience for all visitors for future generations. Visitor education includes principles of: packing out what you pack in, disposing of waste properly, leaving what you find (in regards to natural items), respecting wildlife, being considerate of other visitors, and picking up litter left by others. Messages are included in our verbal orientation, literature, as well as supported by signage.
Freetime has established partnerships with parks across
the United States:
National Park Service
Gateway National Recreation Area (NPS)
California State Parks
Orange County CA Parks & Recreation
Los Angeles County Dept. of Parks & Rec.
City of Los Angeles Dept. of Rec. & Parks
Long Beach CA Parks, Recreation & Marine
Oceanside CA Parks & Recreation
San Diego Park & Recreation
Santee Lakes CA Recreation Preserve
Denver Parks & Recreation
Florida State Parks
Pinellas County FL Parks & Recreation
Fort Myers FL Parks & Recreation
City of St Petersburg, FL
Chicago Park District
Indiana State Parks
City of Indianapolis
City of Louisville Parks & Recreation
New Orleans City Park
Minneapolis Parks & Recreation
Cincinnati Dept. of Parks & Recreation
Philadelphia Parks & Recreation
Saint Paul Parks & Recreation Department
New York City Dept. of Parks & Recreation
City of Portland OR Parks & Recreation