HISTORY
We've always had an affinity for recreation. While vacationing in Italy in 1987, founder Brian McInerney came across the 4-wheel multi-passenger Surrey cycles. Having had a long affinity for bicycles, he was so enamored by the Surrey he sought out the manufacturer and purchased a container of them before returning to the States. And that's how it all got started..
Brian returned and opened his first recreational rental location in Ventura, California. He purchased a small quantity of regular 2-wheel bicycles to round out the rental fleet, but the real star was the Surrey cycle. Every customer (and family) left with a huge smile and a cherished memory.
As time went on some of the tourists who visited that first spot in Ventura wanted to start a similar business back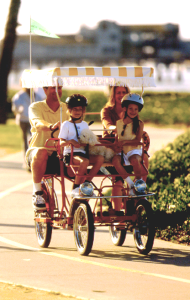 home, and a small distribution company was formed that sold Surrey cycles and the necessary replacement parts to keep them running.
Freetime Inc. was established in 1999 when Brian McInerney and Al Stonehouse combined forces. Al's experience as president of Diamondback bicycles and skills at company growth and systems development helped establish a new direction. By 2001 they were manufacturing specialty bikes for the rental market, added to the fleet with new unique cycles, and began franchising locations.
Today, Freetime has over 2 million guests hop on and off recreational product each year from over 100+ locations. Recreation locations include city/state/and national parks, beaches, marinas, retail spots, hotels, visitor centers, and more. Freetime's specialties have expanded significantly over the last 16 years, and our expertise and vast portfolio includes: recreation rentals, boating/kayaking/water-bound adventures, Segway Tours, guided bike and kayak tours, food concessions, special events, resort amenity offerings, Safari Cycles, retail, fishing/bait & tackle, and so much more! Through this evolution, one thing has remained constant, Freetime = recreation. We pride ourselves in being the best in recreation with the highest quality products, excellent customer service, superb hiring and training programs, and more.