SAFARI CYCLES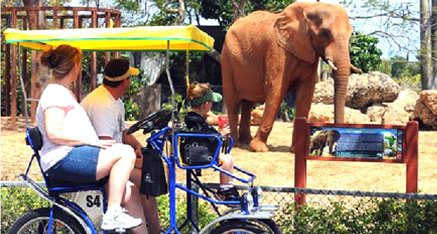 Safari Cycles provide appealing and effective visitor transportation, reducing congestion and enhancing the zoo experience! Zoo guests pedal their way through Africa, Asia, the Amazon, and more! Our Safari Cycle program is a complete turnkey system that integrates a unique mode of transportation safely and easily at zoos nationwide.
Safe, rugged, and low maintenance, our Safari Cycles have a proven track record to improve guest return rates, provide an additional revenue stream, increase annual memberships, reduce congestion in the walkways and more.
Safari Cycles clear up zoo walkways; capable of holding six adults and two small children, the Safari Cycle is compact and allows children to be elevated for a better view, enhancing the zoo experience for everyone. We create easy-to-follow maps to mount on the Safari Cycle dashboard. These attractive zoo property layouts encourage one-way traffic flow, further helping to alleviate congestion. Our turnkey zoo program has been developed specifically to establish and sustain a first class operation generating a solid revenue stream for zoos.